HKGOC
About Us
What is HKGOC?
The Hong Kong Green Organisation Certification (HKGOC) is led by the Environmental Campaign Committee (ECC) alongside the Environmental Protection Department and in conjunction with nine organisations, in alphabetical order, the Advisory Council on the Environment, the Business Environment Council, the Chinese General Chamber of Commerce, the Chinese Manufacturers' Association of Hong Kong, the Federation of Hong Kong Industries, the Hong Kong Chinese Importers' & Exporters' Association, the Hong Kong Council of Social Service, the Hong Kong General Chamber of Commerce and the Hong Kong Productivity Council. The HKGOC aims to benchmark organisations in green management, to encourage participating organisations to adopt environmental practices in different aspects and to recognise their efforts in and commitments to the environment.
Starting from 2020, HKGOC consists of four Certificates, namely "Wastewi$e Certificate", "Energywi$e Certificate", "IAQwi$e Certificate" and "Carbon Reduction Certificate". Participating companies can further obtain the title of "Hong Kong Green Organisation" if they demonstrate achievements in multiple environmental aspects.
Hong Kong Green Organisation Certification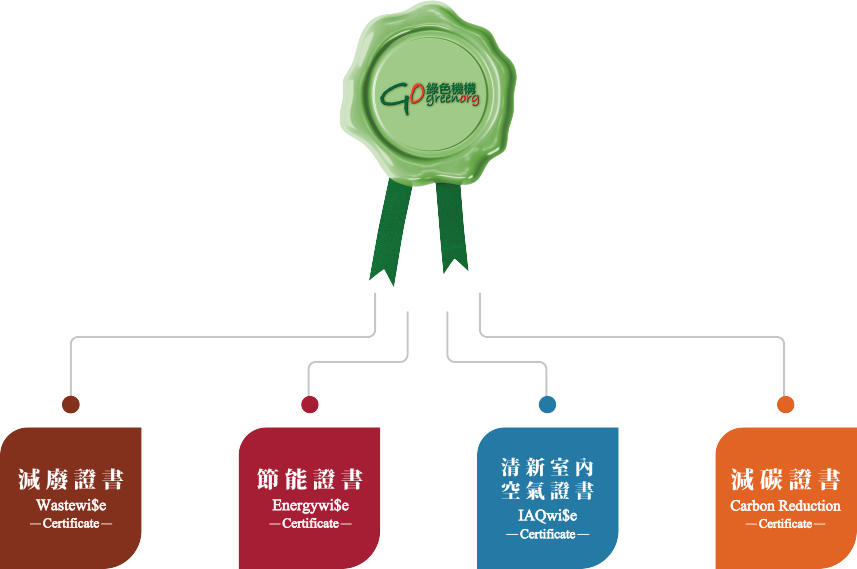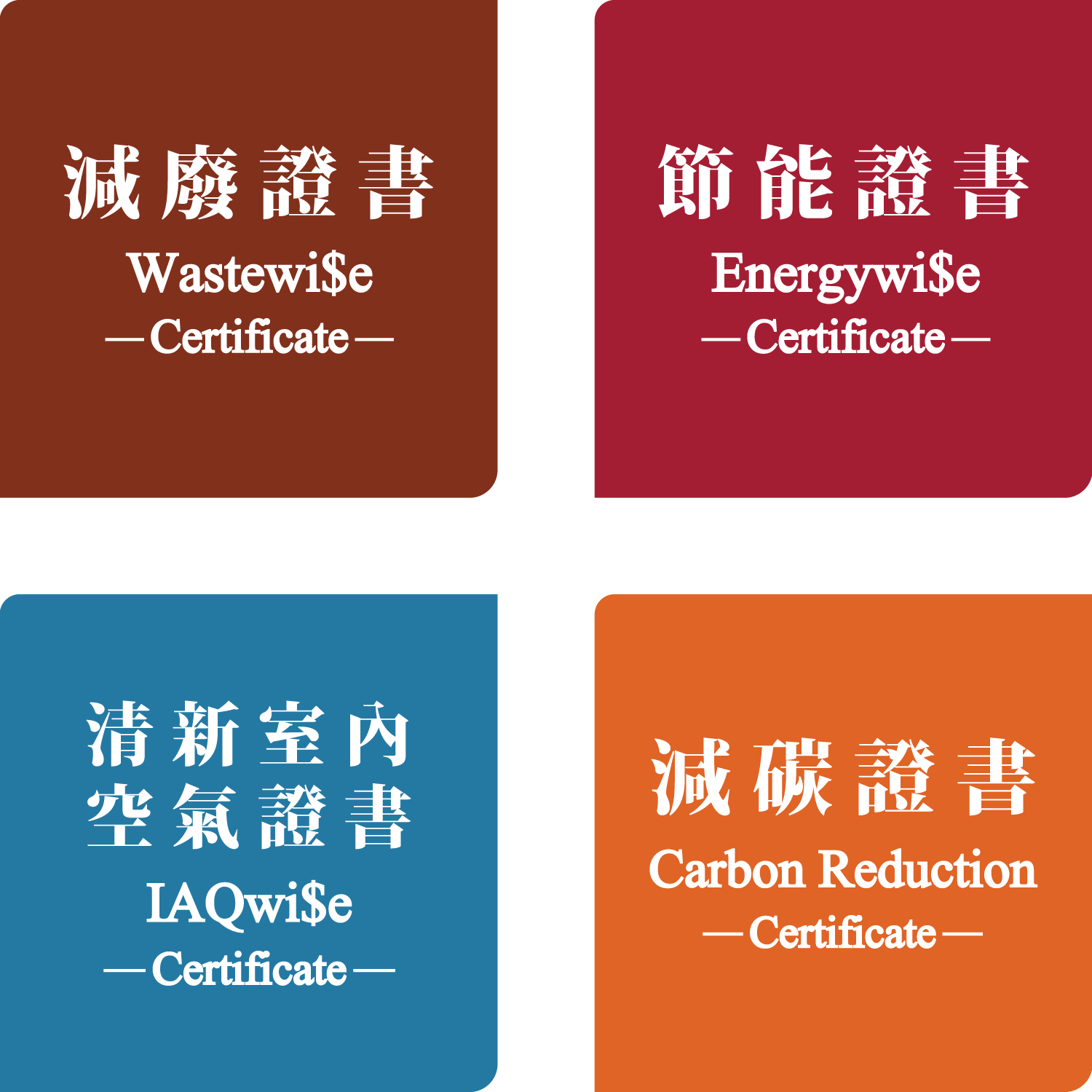 Benefits of Joining
HKGOC participating companies / organisations can –

improve the corporate brand image;
promote corporate social responsibility; and
obtain professional advice to improve operation efficiency and environmental performance
Certified Hong Kong Green Organisations (HKGOs) may –

gain media coverage opportunity to showcase their excellent green achievements;
be invited to share their green achievements and experience at public events; and
be granted certificates and stickers to be placed at visible places to familiarise the public with the environmental contribution of the Green Organisations.
HKGOC participants can also enjoy various benefits in a number of other local schemes –

BOCHK Corporate Environmental Leadership Awards Programme
BEAM Plus
Caring Company Scheme
Green Office Awards Labelling Scheme (GOALS)
CLP Smart Energy Award
WWF-Low-carbon Office Operation Programme (LOOP)
Green Shop Alliance Award (GSA)
Hong Kong Green Label Scheme
Hong Kong Green Mark Certification Scheme
Awards Committee on the Hong Kong Awards for Environmental Excellence
Members of Awards Committee (2021-2022)
Ir Dr Conrad WONG, BBS, JP (Chairman)*
Ms Malina NGAI, JP*
Mr Maric CHENG
Sr Prof WONG Bay
Mr M. Y. WONG, SBS, BBS, JP
Dr Rita YU
Mr LEUNG Chi-Fung (Business Environment Council)
Mr Jude CHOW (Federation of Hong Kong Industries)
Mr Watson CHAN (Hong Kong General Chamber of Commerce)
Dr Lawrence CHEUNG (Hong Kong Productivity Council)
Mr Ivan WONG (The Chinese General Chamber of Commerce)
Mr Jackson LEUNG (The Chinese Manufacturers' Association of Hong Kong)
Mr TANG Siu-Kun (The Hong Kong Chinese Importers' & Exporters' Association)
Mr Keevin POON (The Hong Kong Council of Social Service)
Representative from the Electrical & Mechanical Services Department
Representative from the Environmental Protection Department
* Member of the Environmental Campaign Committee
Terms of Reference
To promote environmental excellence among public and private organisations in Hong Kong;
To steer and oversee the implementation of the Hong Kong Awards for Environmental Excellence (HKAEE) and the Hong Kong Green Organisation Certification (HKGOC); and
To review the Award and Certification Schemes, and advise the Environmental Campaign Committee on enhancement of the Schemes
Collaborative Partners
Hong Kong Association for Testing, Inspection and Certification Ltd
Hong Kong Coalition of Service Industries Hong Kong General Chamber of Commerce
Hong Kong Computer Society
Hong Kong Construction Materials Association Ltd
Hong Kong Exhibition and Convention Industry Association
The Hong Kong Federation of Restaurants & Related Trades Limited
Hong Kong Financial Services Development Council
Hong Kong Foundry Association
Hong Kong Fur Federation
HK General Building Contractors Association Ltd
Hong Kong Greater China SME Alliance Association
Hong Kong Information Technology Federation Ltd
Hong Kong Institute of Project Management
Hong Kong Institution of Certified Auditors Ltd
Hong Kong Investment Funds Association
Hong Kong Lin Chamber of Commerce
Hong Kong Netrepreneurs Association
Hong Kong Opto-Mechatronics Industries Association
Hong Kong Professionals and Senior Executives Association
Hong Kong Science and Technology Parks Corporation
Hong Kong Suppliers Association Ltd
Hong Kong Waste Management Association
Hong Kong-Thailand Business Council Ltd
Hong Kong Association of Freight Forwarding and Logistics Ltd
Institute of Print-media Professionals Ltd
Institution of Dining Art
Insurance Authority
International Chamber of Commerce - Hong Kong
ISACA China Hong Kong Chapter
Knitwear Innovation and Design Society Ltd
Logistics and Supply Chain MultiTech R&D Centre (LSCM)
New Zealand Chamber of Commerce in Hong Kong
Radio Association of Hong Kong
Society of Registered Financial Planners
The Chamber of Hong Kong Computer Industry Co Ltd
The Chartered Institute of Logistics and Transport in Hong Kong
The Chinese Banks' Association Ltd
The Hong Kong Air Conditioning and Refrigeration Association Ltd
The Hong Kong Association of Property Management Companies
The Hong Kong Exporters' Association
The Hong Kong Federation of Insurers
The Hong Kong General Chamber of Small and Medium Business
The Hong Kong Institute of Housing
The Hong Kong Institute of Surveyors
The Hong Kong Japanese Chamber of Commerce & Industry
The Hong Kong Q-Mark Council (Under Federation of Hong Kong Industries)
The Hong Kong Registered Contractors Association
The Institution of Engineering and Technology Hong Kong (IET Hong Kong)
The Professional Validation Council of Hong Kong Industries
The Real Estate Developers Association of Hong Kong
BEAM Society Limited
Hong Kong Hotels Association
Hong Kong Mould & Product Technology Association
Hong Kong Small and Medium Enterprises Association
Hong Kong Wireless Technology Industry Association Ltd
Internet Professional Association
The Belgium-Luxembourg Chamber of Commerce
The Hong Kong Construction Association, Ltd
Hong Kong Jewellers' & Goldsmiths' Association
SME Global Alliance Ltd
The Hong Kong General Chamber of Small and Medium Business